[divider line_type="No Line" custom_height="20″]
Web & Design Services maintains a Virtual Private Server. It is housed with GoDaddy who boasts a 99.99% uptime.
I recently upgrade to a VPS — Intel(R) Xeon(R) CPU E5-2630L v2 @ 2.40GHz — running CentOS 6 and cPanel with an abundant 8 GB RAM and 8 TB of bandwidth.  This is a 4x increase in processing power and more room to grow.
This puts to shame the previous dedicated server with an IntelCore i3-2100 CPU @ 3.10GHz and 1.67 Gb of RAM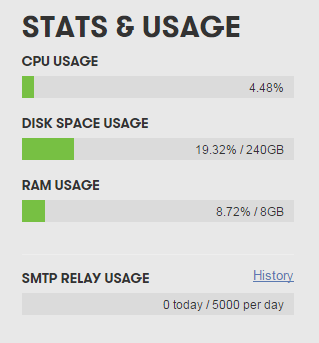 Often times websites are housed on a Shared Server. These could hold hundreds, if not thousands of websites all sharing the resources of that server such as processing (CPU) and memory (RAM). During peak usage, your website could experience lag since the page requests are in cue waiting on the server to process each request. Our server is set up for efficiency. Since its only function is to serve WordPress pages, the processing of the page has virtually unlimited resources. In addition, moving other server functions offsite frees RAM – also adding to process speed. This means that pages are delivered to the user as fast as their device's connection speed allows.
To maintain this level of service, I intend to host no more than 25 major clients on this server #01. Hosting is currently available at $250/year* renewable. This price includes domain name purchase or transfer; domain name server setup; site transfer or setup; monthly content and database backup (offsite); and SSL and STMP support (may be additional cost).